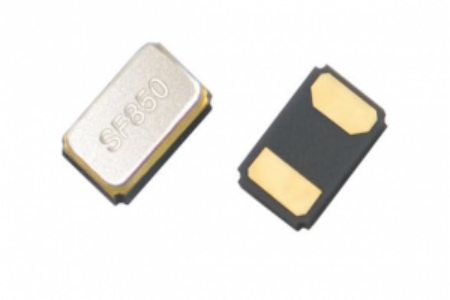 Why is a 32.768 kHz Crystal Oscillator So Important?
32.768 kHz crystal oscillator?
A piezoelectric crystal that vibrates mechanically to produce an electrical signal with a precise frequency is known as a Crystal Oscillator, an electronic oscillator circuit. It also includes an automated amplitude control system, and the frequency drift caused by temperature changes is relatively small. Only high-frequency applications can benefit from using crystal oscillators.
Every microcontroller needs a crystal oscillator; in choosing one, try to get silicon oscillators if the accuracy is sufficient and the cost is also reasonable; otherwise, use quartz crystal. One particular clock crystal frequency for timing devices, a 32.768 kHz crystal oscillator, is primarily utilized in compact communication devices. Both SMD/SMT type crystal resonators and DIP 2 pin through hole tuning forks are supported by YXC.
The features of the 32.768 kHz crystal oscillator
Ultra-compact SMD tuning fork crystal resonator
20 ppm standard.
768 kHz standard.
Excellent reliability performance, and maximum 260°C.Reflow soldering temperature.
Basics of a Crystal Oscillator
Design considerations for PCBs
Testing Firmware for Crystal Robustness Test
Guide to Crystal Recommendations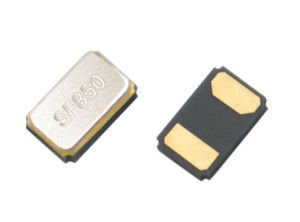 Why Are 32.768 kHz Oscillators Better?
You may rely on the 32.768 kHz oscillators from ChipSun, all of which come with a CMOS-compatible output signal if you don't want to put in the work of constructing the ideal circuit for your tuning fork crystal. This rail-to-rail output makes it possible to connect to all popular microcontrollers and RTC devices exceptionally quickly and easily.
Minimal Current Consumption Sincerely, Tuning Fork Crystal:
For instance, it's quite simple to utilize the 32.768 kHz crystal oscillator. A relatively low current consumption distinguishes it since it contains a tuning fork crystal. Additionally, it may be used in applications that require a changeable operating voltage between 1.5V and 5.0V, which makes it especially appropriate for battery-powered ones. The operating temperature significantly influences its output frequency due to the usage of a tuning fork crystal.
Less Temperature Dependency Thanks to AT-Cut Quartz Blank:
The benefit of an oscillator over a tuning fork crystal is not limited to its simplicity of use. The usage of the ChipSun-oscillators 32.768 kHz is supported by the association between the output frequency and operating temperature indicated above. Because these oscillators don't employ tuning fork crystals but rather an "AT-cut" quartz blank, the operating temperature has far less impact on the output frequency.
Even more, stable frequency performance is provided. It is a 32.768 kHz TCXO with unrivaled frequency stability of up to +/- 5 ppm throughout a hotness range of -40°C to +85°C.
Precision heat correction, carried out at various temperatures during manufacturing, results in exceptional frequency stability. This 32.768 kHz crystal oscillator is highly resistant to changes in operating voltage thanks to the manufacturing "trimming" process.
Longer Battery Life with Low Power:
Although it is simple to create low-power digital functions, oscillators are analog devices. It is exceedingly challenging to achieve both great precision and minimal power at the same time. Epson's TG-3541CE achieves significantly higher accuracy and lower power, 0.6 A, than competing solutions by utilizing a special low-ESR kHz crystal co-packaged with a DTCXO oscillator and manufactured using low-leakage transistor technology. This makes it the most accurate and low-power 32.768 kHz oscillator on the market.
Applications of 32.768 kHz crystal oscillator:
It is utilized in frequency synthesizers.
They are used in some kinds of receivers.
They are used in microprocessors as a crystal clocks.
Colpitts Application of the Armstrong Crystal Oscillator in the Military and Aerospace.
TV and radio transmitters.
Crystal oscillators are frequently found in mobile consumer electronics, including cellphones, tablets, digital cameras, and dashboard gadgets like vehicle navigation systems. They are commonly utilized for time and sub-clock (sleep & timer) applications.
Who is the manufacturer of a 32.768 kHz crystal oscillator?
ChipSun, a recognized leader in the development, uses its core technology and distinctive strengths to develop quartz crystal oscillators. Its products conform to environmental protection laws such as RoHS, REACH, and others. In the smallest packaging available in the market, they create a tiny crystal unit and oscillation circuit. A compact crystal oscillator. Utilizing an oscillator tuning-fork quartz, which is incredibly adaptable, may be employed in a range of electronic systems to assist minimize both system size and current consumption.
In addition to conserving vital board space, the quartz and oscillator are combined into a single device, which addresses issues with a frequency accuracy and quality. Before shipment, the characteristics of the crystal oscillator are guaranteed, assuring quality and reliability and streamlining design, sourcing, and manufacturing.
What purpose does a kHz oscillator serve?
The operation of an electrical or mechanical device known as an oscillator is based on the oscillation idea, which describes a regular alternation between two particles based on fluctuations in energy. Metal detectors, clocks, radios, computers, and other gadgets all employ oscillators.
The function of a kHz oscillator is to generate a signal at a specific frequency. This oscillator has many uses outside of radio communications, audio equipment, and scientific instrumentation. KHz oscillators are a specific type of electrical oscillator that can create signals with an exact frequency.
Conclusion:
A popular method of quartz crystal oscillator used in electronic watches and other gadgets that need a reliable, precise timekeeping source is the 32.768 kHz crystal oscillator. An electrical oscillator circuit known as quartz uses a spinning piezoelectric crystal's mechanical resonating to generate an electric signal with an exact frequency. The crystal oscillator is a vital part of many electrical devices, including clocks, radios, and computers. Automated production facilities operated by ChipSun Technology were outfitted with the most cutting-edge manufacturing and testing equipment available. Qualified engineers and a technical team form a strong technical force. Through consistent efforts, our quality and service have gained the respect and trust of the clients. To fulfill the demands of various clients, including original equipment manufacturers, original concept producers, and suppliers of electronic manufacturing services, ChipSun Technology offers R&D solutions, turnkey solutions, e-commerce, and other value-added services.